Oct 08, 2019 By Team YoungWonks *
In a tech-savvy world that is increasingly driven by software development, it is perhaps not so surprising that hackathons have become rather popular today. This is especially so in the US, particularly in California's Bay Area. Be it tech company professionals, college students or even high school students, even as hackathons gain traction, it's time for us to take a close look at what hackathon actually means and some of the hackathons that American (high) school students can take part in.
What is a hackathon?
A hackathon - also called a hack day, hackfest or codefest - is a design sprint-like event where computer programmers and others involved in software development, including graphic designers, interface designers, project managers, and others, often including domain experts, collaborate intensively on software projects. The goal of a hackathon is to build usable software or hardware with the aim of making a functioning product by the end of the event. Hackathons usually have a specific focus, which can be the programming language used, the operating system, an application, an API, or the subject and the demographic group of the programmers taking part. In other instances, there are no limitations on the type of software being built.
So in simple terms, a hackathon is a coding marathon - typically spanning a weekend - where people collaborate to create projects. At student hackathons, not only do students get together to build things but they also attend workshop presentations which can further help them hone their programming skills and have fun at the same time!
It is important to note that hackathons include the word hack but it does not mean that students are "hacking" servers. The word hack here denotes coding so as to build apps, games, websites. Thus these hackathons are safe, supervised and educational.
And while there are scores of student hackathons meant for college students both in the US and across the world, this blog takes a close look at the leading hackathons for US high school students.
Below we have listed a few major high school hackathons - most of them are 24-48 hour long weekend hackathons - in the order of their date (starting with the earliest).
1. Hyphen-Hacks
Date: October 12-13, 2019
This 24-hour Bay Area high school hackathon is taking place on October 12-13, 2019 at the Lick-Wilmerding High School. It promises to be helpful for students even as it plays host to some expert technology practitioners hailing from some of the most innovative companies in the world. In addition to free food, prizes, mentorship from industry professionals and a fun experience overall, Hyphen-Hacks will have free workshops on a range of topics intended for beginners and advanced programmers. For participants who are not applying as part of a team, there will be a team building portion at the beginning of the event. For more information and registration, visit: https://hyphen-hacks.com/.


2. SolarHacks
Date: October 19, 2019
SolarHacks is a one-day hackathon that is independently organized and not affiliated with any school. Scheduled to take place on Saturday, October 19 (9am to 10pm PST), at 42 Silicon Valley in Fremont, California, the hackathon is expected to attract 200 participants; knowing how to code is not mandatory. The goal of the event is to bring middle and high school students in the Bay Area together so they can develop innovative ideas that have the potential to revolutionize the world. These projects can be software projects which are quite popular or unique submissions such as hardware (Arduinos, Raspberry Pi, etc). Participants can be middle and high school students (grades 7 to 12) and those have graduated from high school can sign up as mentors; no prior experience is required. At Solar Hacks, students get free food and resources in addition to mentorship that can help students turn their ideas into reality. Projects scoring high on creativity, viability and ease or difficulty of implementation get prizes. For more information and registration, visit: https://solarhacks.org/.


3. AngelHacks
Date: October 27, 2019
AngelHacks is a 24-hour hackathon where 50 students from across LA get to come together and work towards building an app, game or website. Independently organized by high schoolers and sponsored via a nonprofit called Hack Club, this hackathon is supervised by 20+ adult mentors & chaperones and free meals and drinks are provided. The hackathon is open to any current student in grades 8–12 and students under/over that age limit can try to participate by sending the organizers a chat message. Participants get to meet fellow hackers and make teams of up to 4, or come as part of a team or even work alone. This year, it is slated to take place on Sunday, October 27. Judges choose the best projects for a demo on the basis of creativity, technical skill, polish, and utility; the winning projects get prizes. AngelHacks prides itself on offering a supportive community for women, minorities, & LGBTQ+ students, and gives them the resources to create something amazing. For more information and registration, visit: https://angelhacks.org/.


4. PillarHacks
Date: November 2-3, 2019
PillarHacks is a 24-hour high school hackathon that will be held at the Athenian School, Danville in San Francisco on November 2-3, 2019. Any high school student (between grades 9-12 either from a public/ private school or home-schooled) can participate. While it is recommended to have prior coding experience, it is not mandatory. Those without any coding experience can use this as an opportunity to develop one's programming skills. Like most high-school hackathons, cost of participation is zero. Also, students can choose to go home but it is suggested that students stay the entire time to gain from the experience; students have to get their own sleeping bags though. Teams are either assigned by the organisers or students can join as part of a team of 3-4 people. However, each member has to handle their own registration and link with their respective team after in the assignment portal. The experience aside, there are also $15,000 worth prizes up for grabs.


5. HackMCST
Date: November 9-10, 2019
Claiming to be the first 24-hour high school hackathon in the suburbs of Morris County (New Jersey), HackMCST has been founded by high school students for the purpose of empowering well… high school students. Students at this Major League Hacking event get to build apps, video games, network, enhance their skills and grow as developers. Again, it costs nothing to participate in this hackathon and all participants get breakfast, lunch, and dinner! The event also comprises talks and workshops, so as to engage every enthusiast. This year, the HackMCST is scheduled to take place on November 9 and 10. For more information and registration, visit: http://hackmcst.tech/.


6. FrontierHacks
Date: November 23-24, 2019
FrontierHacks is a 24 hour hackathon in association with SMYLE, a nonprofit organization for student volunteers that works towards offering a center of innovation for Bay Area (San Francisco) students, so as to empower student communities around the world. This hackathon not only helps students gain coding expertise but it also gives them a chance to give back to their community. The aim is to help the underprivileged of the community, by offering them a place to learn and hack for everyone, irrespective of their financial status or gender. In the hackathon, programmers team up with others to work on innovative projects that can help the community at large.
FrontierHacks is known for offering a friendly and welcoming environment where teams of new and experienced coders, including high school students, can work on a project from scratch, pick up new skills, and have fun at the same time. This year, the hackathon is being held at Make School in San Francisco on November 23-24, 2019.
A basic understanding of programming is helpful to participants, but typically the hackathon also hosts workshops and has many mentors to help students convert their project ideas into reality. However, there is an age limit: participants have to be a middle/high schooler over the age of 13. Participants can work individually or in teams of up to 4 people. The best part is that taking part in FrontierHacks is completely free of charge! Even food and drinks are included as the idea is to offer hackers a good environment to work in. Other rules include crackdown on precoding and stealing source code; competitors can only work on their own projects. Apar from this, students must have their own laptop, a valid student ID, chargers, phone, a blanket/sleeping bag, toiletries, and any supplies needed for the hack. For more information and registration, visit https://frontierhacks.com/.


7. OrionHacks
Date: March 14-15, 2020
OrionHacks is a 24 hour hackathon, that is open to hundreds of high school students all around the Bay Area; the aim here is to create projects that solve issues through code. Participants will get to work on projects that leave a positive impact on the world. This hackathon too provides attendees with free food, drinks, workshops, and prizes.
After the opening ceremony, there is a team mixer where participants meet new people and form teams. This means that one doesn't need a team coming in. For those who don't know how to code, there are going to be many amazing workshops offering people a hands-on coding experience. Students need to bring along a valid student ID, a laptop, chargers, a reusable water bottle and the signed waiver (preferably signed online). In terms of the scope of the project, all tech related projects - think hardware and/or software integrated products - are allowed. The hackathon is slated to take place next year on March 14 and 15 at Cupertino, California. For more information and registration, visit https://www.orionhacks.com.


8. YoungWonks Hack Day 2020
Date: May 23, 2020
Bay Area parents who are interested in hackathons for kids and parents can check out YoungWonks Hack Day 2020. YoungWonks Hack Day 2020 promises to be one fun-filled day where students and even grownups will get to code, create and innovate. This day-long hour hackathon will see participants get together to build complete robots, games, apps and more! What's more, this hackathon is open to everyone and not just YoungWonks Coding Classes for Kids' students. The aim is to bring together like-minded coders and create projects / solve challenges through code. Those who wish to participate can do so from three tracks: a. Elementary (for elementary school kids) b. Middle (for middle schoolers) and c. Pros (for high schoolers and adults). Venue and timings shall be shared at a later date. Registrations for YoungWonks Hack Day 2020 are already open. For more details and registration, visit https://www.youngwonks.com/hackathon-for-kids-and-parents.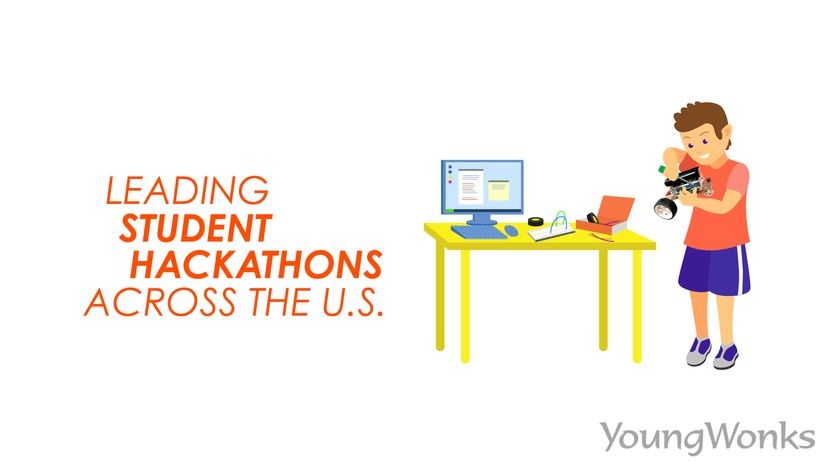 *Contributors: Written by Vidya Prabhu; Lead image by: Leonel Cruz