Jun 05, 2018 By Team YoungWonks *
The US has a fair share of prestigious science events and competitions open to K-12 students, allowing them to showcase their budding talent in STEM projects. Some of the top prizes run into thousands of dollars in scholarships and other awards. In all, over 9 million students in grades 9-12 are said to take part in nationwide science competitions. Listed below are some of the most noteworthy STEM competitions/ fairs that the best and brightest of the country's young minds can participate in:

The Conrad Spirit of Innovation Challenge

Deadline: Usually it's November first week and registrations open in August. For example, last year, registrations opened on August 23, 2019 and the deadline was November 1, 2019. This year, registrations will open in August 2020.

Prize: Seed funding grants, patent support etc
The Conrad Spirit of Innovation Challenge is an annual, multi-phase innovation and entrepreneurial competition that aims to attract young innovators and entrepreneurs across the globe. It encourages collaborative work with the mission to develop innovative and viable scientific solutions to benefit the world. The focus of the challenge lies in four key areas: aerospace & aviation, cyber technology & security, energy & environment, and health & nutrition. High school students (age 13-18) are eligible to participate in teams. Winning teams are eligible to receive receive seed funding grants, investment opportunities, patent support, business services, scholarships and other opportunities to grow their solution into a real business.
To register and for more information, visit http://www.conradchallenge.org/
Regeneron Science Talent Search

Deadline: November second week, including transcripts and recommendations; the deadline last year (2019) was November 13, 2019, 8pm Eastern Time. The final winners are announced at an awards gala in the following year's March; 2019's winners will be announced at the gala on March 10, 2020.

Prize: Up to $250,000
The Regeneron Science Talent Search is a competition open to high school seniors. The challenge will be for students to conduct independent science, math, or engineering research. To be considered, submit a maximum 20 page research report explaining your experiments and conclusions. Only individual research work will be considered, group and team projects will be deemed ineligible. Any student who is enrolled in and attending his or her last year of secondary school in the US and its territories may apply. Also, students who are US citizens living abroad may qualify. Top prize is a $250,000 award.
For more information, visit: https://www.societyforscience.org/regeneron-science-talent-search
MIT THINK Scholars Program

Deadline: January first week, usually January 1 with registrations opening in November first week. Applications for 2019-2020 are closed.

Prize: Funding for projects
The THINK Scholars program is an MIT-led competition promoting STEM (science, technology, engineering and mathematics); it supports and funds projects developed by high school students. Organized by a group of undergraduates at MIT, THINK reaches out to students who have done extensive research on the background of a potential research project and are looking for additional guidance in the early stages of their project. Finalists receive all-expenses paid trips to MIT to attend xFair (MIT's spring tech symposium) and winners receive funding to build their projects.
For more information, visit https://think.mit.edu/
Maker Faire

Deadline: Maker Faire Bay Area: registartions close in April since the faire takes place in May (this year, it is slated to take place in May 2020); World Maker Faire, New York meanwhile usually takes place in September (this year, it is slated to take place in September 2020); Some other Maker Faire dates are as follows:
Maker Faire Bangkok: January 18-19, 2020; Maker Faire Kuwait: February 11-15, 2020; Maker Faire Cairo: February 29, 2020; Maker Faire Berlin: April 18-19, 2020; Maker Faire Miami: April 25-26, 2020 and Maker Faire Kyoto: May 2-3, 2020
Prize: Increased exposure, experience and engagement with the Maker Faire Education Community which in turn encourages innovation
The Maker Faire is an event open to participation by school students, for it is an all-ages gathering of like-minded 'making enthusiasts'; be it tech lovers, crafters, educators, tinkerers, hobbyists, engineers, science clubs, authors, artists, students or commercial exhibitors. Aimed at celebrating arts, crafts, engineering, science projects and the Do-It-Yourself (DIY) mindset, the Faire is an event created by Make: magazine. 'Mini' and 'Featured' are the two types of Faires and both varieties are are independently organized but licensed by Maker Media; several editions of both have taken place across the world with the flagship Faires held in Bay Area and New York.
For more information, visit: https://makerfaire.com/
Young Scientist Challenge

Deadline: Applications opened on December 17 and will close on April 21, 2020.

Prize: Up to $25,000
The Young Scientist Challenge is an engineering competition for young innovators; students in grades 5-8 are eligible to compete. They are encouraged to provide novel solutions to help solve everyday problems in a 1-2 minute video. Winners receive $25,000, and finalists get to work one-on-one with some of 3M's top scientists and engineers. Finalists are announced in June and receive an exciting summer of mentoring before the grand prize winner is chosen in October.
For more information, visit https://www.youngscientistlab.com/challenge
Google Science Fair

Deadline: 2020 dates to be announced

Prize: Various; up to $50,000 scholarship
Google Science Fair is a global online science competition that's open to students between the ages of 13 and 18. It took place annually from 2011 to 2016 and again in the fall of 2018 for the year 2018-19; submissions were open from September to December 2018 and winners were announced in May 2019. Google science fair scouts for talent and ideas that have the potential to positively make an impact to change the world for the better. Prize money usually includes amongst others, scholarships up to $50,000 as well as a National Geographic sponsored trip. Finalists are also invited to present their projects to a distinguished panel of judges at the Google HQ in Mountain View, CA.
For more information on the upcoming Google fair, visit https://www.googlesciencefair.com
RoboRAVE International

Deadline: Registrations for RoboRAVE Oxford New York 2020 (slated to take place on March 20-21, 2020) close by March 13, 2020; RoboRAVE Istanbul will take place on March 21, 2020 and registrations close by March 18, 2020. RoboRAVE California will take place on April 18-19, 2020 with April 17, 2020 as the last date for registrations. RoboRAVE Australia meanwhile will take place on May 22-24, 2020 with registrations closing by April 20, 2020. For details on more regional and international editions, check the official website shared below.

Prize: Upto 1,000 USD, medals and certificates
An open platform robotics competition, RoboRAVE International is an international technology competition ideal for school students; it can feature any robot, using any software and any participant. Eligible teams comprise two to four players, one robot and one coach. Thus the participants can be from elementary, middle or high school students and even Big Kids (which includes University students, teachers, engineers, hobbyists, etc). Those up to the challenge could compete in a higher division, but they can't take part in multiple divisions of the same challenge. Challenges vary from building and programming robots that can do the following: complete mazes, climb steep inclined planes, light and extinguish fire without contact, exhibit innovation, win at jousting/ sumo and carry out various tasks despite weighing less than an air vehicle. Its regional editions last year (2019) were RoboRAVE California, RoboRAVE North America and RoboRAVE Turkey.
For more information, visit https://www.roboraveinternational.org/
Intel International Science and Engineering Fair

Deadline: Usually early April

Prize: Up to $75,000
The Intel ISEF is an international pre-college science competition that provides an annual forum for over 1,700 young scientists, engineers and mathematicians from across the world to compete for approximately $4 million in awards. Students in grades 9-12 or equivalent must compete in an Intel ISEF affiliated science fairs around the world and win the right to attend the Intel ISEF. Students have to present work for their project that includes no more than 12 months of continuous research and does not include research performed over 18 months from the time of the Intel ISEF Fair in which they will be competing. Local, regional, and state affiliated fairs take place throughout the year, but all will be completed by early April. Each affiliated fair may send a predetermined number of projects to the Intel ISEF. Competition begins at the high school level and culminates at the International Science and Engineering Fair, which is usually held in May. Last year, it was held in Phoenix, Arizona on May 12-17, 2019 and this year it will be held from May 10-15 in Anaheim, California. For more information, visit https://www.intel.com/content/www/us/en/education/competitions/international-science-and-engineering-fair.html
Broadcom MASTERS

Deadline: Applications usually close by mid-June; this year, it is June 10, 2020 with the finalists announced in September and the project showcase taking place on October 17, 2020.

Prize: Up to $25,000
Broadcom MASTERS (Math, Applied Science, Technology and Engineering for Rising Stars) is the premier national science and engineering competition for middle school students. It aims to encourage engineering and innovation amongst younger students. Society affiliated science fairs around the country nominate the top 10% of 6th, 7th and 8th grade participants to enter this prestigious competition. After submitting the online application, 300 semifinalists are chosen and 30 finalists present their research projects and compete in team hands-on STEM challenges to demonstrate their talents in critical thinking, collaboration, communication and creativity.
For more information, visit https://student.societyforscience.org/broadcom-masters


Shared below is an interview with YoungWonks Coding Classes for Kids' student Anika Sharma who participated in the 2018 Bay Area edition of the Maker Faire. Here she talks about her prep for the fair.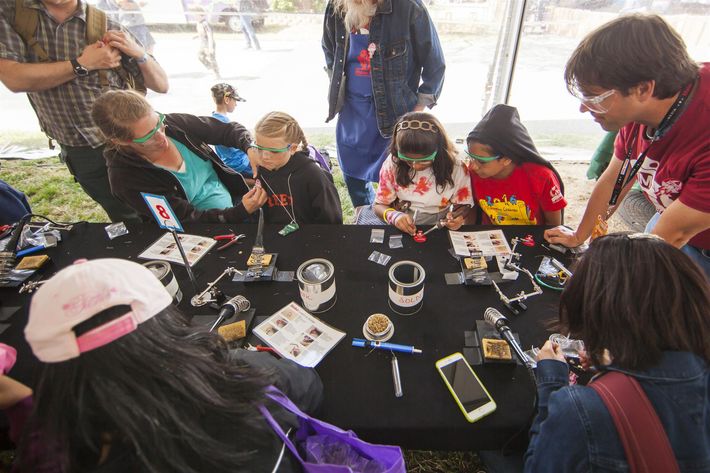 *Contributors: Written, edited and updated by: Vidya Prabhu; Photo courtesy: Shutterstock